December 10, 2017
Four International Trends for Men, to buy from Desi Designers
Finally, the menswear is experiencing not just a light breeze but winds of change for Spring-Summer 2018. In the forthcoming season, the Adams can expect anything from layered overdose to draped shirts and oversized tunics. From big floral prints, which were always in control of the feminine charm, to color blocking; menswear is experiencing a new lease of freedom it seems. While, Paris Fashion Week gave us some 'never seen before' trends for the upcoming season, the New York Fashion Week seems no less celebrating the new age 'street to high fashion' look, along with new colors with a conscious lean towards feminism. Back home, there has been some equal shout on the submerging gender bias. The Indian runway is eye witnessing a sea of change as well. The desi designers are experimenting not only with new fabrics and cuts for menswear but risking with colors never thought of before. Prints have perhaps decided to travel straight from the women's wardrobe with not much alteration to please our men this season. So here is our pick for the fourmust-haves for the Spring-Summer 2018, for the Indian men to follow from the International trends but carry it off with equal élan from the homemade fashion.
A Bit of Drape
Now, this should not surprise our Indian men at all. The dhoti and lungi have been there since time immemorial, but wait, here we aren't talking about lowers only. It's the super cool draped tunics that are making rounds internationally for men, which got us floored. Lanvin adopts this trend with street fashion ease, the drape being mostly around the waist for the layered uppers. Following him, in close quarters, we heart Issey Miyake's innovative draped smart pants and the not-so-over-the-top subtle look by Y3. Back home while Ujjwal Dubey of Antar-Agni fame demands the crown for draped men's tunic, kurtas, shirts, pants and all things in between, Digvam Meheta and Sumiran Kabir Sharma are happening players to watch out for. This season Ujjwal kept the look more subtle and global.
Old Rose and More
You heard it right! Menswear will be in unthinkably subtle and powdery shades of old rose, pink and flamingo. Is it that men are turning more romantic or is it just the quite slip into the unbiased gender roles? Well, whatever we definitely love to see our men in these new pinks. Big players from Paris to London have allowed the old rose to be part of their muse: From Ermenegildo Zegna, Dunhill and Berluti to Gucci, Topman Design, and Haider Ackerman. From pantsuits in monochromatic pink (read flamingo, old rose, and neighboring hues) to casual jackets and bloomers, you can own one for sure. And for the desi version, the pick can be from Raamz Design Studio's collection "Geo-metron" or House of Khanijo by Gaurav. For the new-age groom, you opt for the pale pink or old rose Sherwanis from Sabyasachi's latest collection.
Prints Galore
The influence of street wear stands prominent for prints as well: from Hawaiian to sporty and from large florals to texture overloads. So the next season expects men to seamlessly adopt prints without worrying over the gender issue. Some of the names to follow if confused, would include Dolce & Gabbana, Yohji Yamamoto, Neil Barrett, Gucci and James Long. We loved Gucci's bias for oriental florals in silk and the texture overdose of Neil Barrett. Paul Smith kept it loud and his florals were huge placement prints mostly. However, Kenzo adopted the sportswear prints with uber-coolness. Homewards, for instance, colorful florals by Sayantan Sarkar for his collection 'Motley in Love' was perhaps an untimely dare a few seasons back, but now it would be a rave. So maybe we could ask him to relaunch his line.
Blocked Out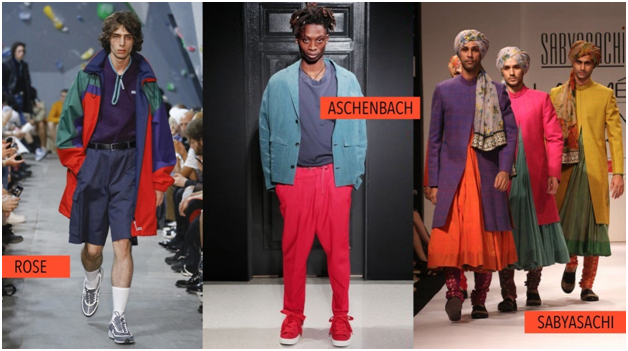 Color blocking is the new way to standing out when the weather or the mood turns gloomy. And for menswear, the options are a tad bit more than creativity could harness. Major performers in this trending style include Ovadia & Sons, Gustav Von Aschenbach, Martine Rose and Raf Simons. Rose keeps the look street smart and Balmain makes it sporty. Ovadia and Aschenbachwent about paring contrasting colored clothes put together, to create an overall blocked look. For a fusion, one can try the look offered by Tarun Tahiliani. And for those considering a complete ethnic stare, who else but the 'color play' genius Sabyasachi Mukherjee comes to the rescue.