May 10, 2017
From saris to crop tops, the sheer dressing is one of summer's hottest trend
How hot are you today? For fashion-forward women, sheer dressing in summer is the hottest trend to fall-back on. From ruling the runways to the red carpet, sheer dressing is a guaranteed head-turner. Though seen as a fashion risk, it hasn't stopped fearless-female celebrities (remember Marilyn Monroe's revealing faux-nude dress in the movie Some Like It Hot) like Beyonce and Gigi Hadid and even our desi divas like Parineeti Chopra and Sonakshi Sinha acing the look on the red carpet with aplomb.
The words light and breezy are synonymous with summer. So take your pick from embellished sheer blouses to translucent saris to even cover-ups, tops, skirts and dresses. A big tip: Invest in sporty-chic lingerie or a slip for maximum coverage.
Designers love sheer. Take a look at Mumbai based kaftan queen Pria Kataria Puri who is all for glamorous yet fuss-free clothing. For Puri, sheer fashion remains a statement from the subtle to the sexual, from the monochromatic to the colourful. She says, "This whimsical, peek-a-boo trend shows a hint of skin, without really going overboard." Puri has picked gossamer sheer fabrics in geometric patterns in her spring-summer line that includes maxi-kaftans and sexy rompers.
Sheer by Falguni and Shane Peacock
Ultra-glam and edgy is what designer duo Falguni and Shane Peacock is known for. High on style and glamour, their red-carpet line has gowns teamed with sheer organza shirts or covers. The colours move effortlessly from tantalising scarlet red to raven black and pretty plum along with neutrals like champagne and nude. For an ultra-glam evening out the designer duo recommends sheer organza jackets paired with short dresses and jumpsuits.
Fluid sheer fabrics, airy cotton and mulmul have been used by Anushree Reddy in her summer wedding line. Her colour palette ranges from blazing corals, lime green, aqua, rose gold, lilac and ivory. The relaxed line has off-shoulder tops and sheer lehengas in soft pinks and greens in floral prints and embroideries.
Sheer by Anita Dongre
Sheer adds a bit of glamour to traditional Indianwear too in saris, lehengas and even see-through blouses. Designer Anita Dongre who loves this breezy style is taking the trend forward with the use of Indian textiles from chanderi to handwoven tissue and khadi and chiffon and tulle mixed with zardozi. Her line consists of flared crop-tops, sheer jackets teamed with short skirts, blousons and organza dresses with gota  patti embroidery. She is all for a casual-chic evening look like breezy saris paired with sheer flared crop blouses. For a sexier look, opt for a ravishing white midi-gown with a sleeved sheer gold cape.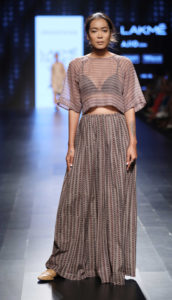 Sheer by Urvashi Kaur
For Delhi-based designer Urvashi Kaur who loves all things hand-woven has used khadi and cotton and sensuous Kota Doria (fabric) with lustrous cotton silk. Her earthy look features sheer crop tops and shirts teamed with delicate bustiers. These can be worn with loosely fitted printed pants with pleat details.
The sheer trend is a tricky one to pull off but one should know how best to style it. Says designer Karn Malhotra, "For a boho chic look, team a simple bustier with a sheer shrug. A sheer insert can be added to the back of your blouse or T-shirt. Cuffs and collars and overlays are other areas where sheer is used to perfection."
So fashion-forward women, here's your chance to sizzle this summer in barely-there ensembles!