March 08, 2017
Kantha: From Women Empowerment to Crafting a Niche Presence at Catwalks
Kantha, the story-telling needlecraft of Bengal celebrates womanhood. Niaz Zaman supports it in her book 'The Art of Kantha Embroidery' and describes it as a woman's art. The craft has been born in homes of undivided Bengal, where women poured their dreams and aspirations into it. It is a true celebration of Woman's Day — which is 'everyday' in their lives. This craft has empowered hundreds of women to financially support their families from within their homes. Kantha making traditionally made use of cotton sarees and dhotis, layered and stitched together as a poor man's blanket. The colourful yarns were drawn from the borders of discarded sarees, to decorate a Kantha. While the poor stitched their own Kantha, the affluent commissioned their Kantha to the less fortunate. Kantha of Bengal had its prominence and was given as dowry. However, with time, it catered to the mass market, as the patron of the traditional Nakshi Kantha (which was painstakingly intricate), lowered in number. The traditional value of owning a Kantha as an heirloom, was lost in the process of commercialisation. The artisans found a way of survival by adopting faster methods of making Kantha, made of cheap, synthetic fabrics. The motifs also followed the easy-lazy path; the aim being to finish a maximum number of pieces and turn a blind eye to quality.
Bengal Kantha has gone through acculturation. The running stitch or the quilting methods existed in Rajasthan and Bihar — having their own nomadic and crude style. These not-so-intricate forms found their way into Bengal and diluted the craft. The overdose of cheap products waned many connoisseurs away. However, from the rubble, rose the flaming effort of some creative heads. Shamlu Dudeja spearheaded the league while envisioning Kantha in a new light. She found the non-profit SHE foundation, along with her daughter Malika in the 80s to give a specific direction to the declining grandeur. Her efforts paved the path for a niche, high-end market segment.
In October, last year, her acquaintance with Kantha, which is for three decades now, culminated in a show at ITC Sonar, showcasing a short film, followed by a fashion show. Her signature style celebrated the story-telling charm of Kantha in a colourful vibration. She believes in the quality of finish and emphasises, "The back of the Kantha must be as neat as the front."
What draws conscious designers to exploit this needlecraft is its 'sustainable' factor. The entire craft is composed of a sustainable process where no chemicals or tools are used, apart from the humble needle. Mona-Pali's fresh approach was evident at the Punjab Fashion Week in 2012. Their unconventional mix of motifs breathed a fresh life into the craft.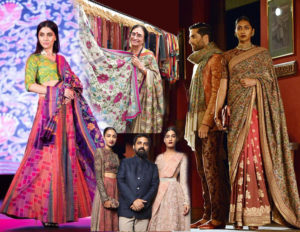 While Shamlu Dudeja presents her Kantha line as contemporary heirlooms, Sabyasachi gives it a bridal extravaganza
Kantha has been a muse for Sabyasachi Mukherjee as well. He used it for Kora, his LFW collection for 2013. The designer presented Kantha with extraordinary grandeur as a Bridal Collection, in opulent Banarasi silks, at the India Couture Week, 2014. His love for this craft dates back to his NIFT days. Sabya used Kantha in his own quirky signature style for Kazgaar Bazar, his graduating collection in 1999. He cleverly juxtaposed it with Kutch and Afghan hand embroidery. His take on the base material and unique quilting patterns gave the craft an innovative aspect.
Despite Kantha reaching the catwalk, social recognition of artisans is rare in India. In 2007, Agnimitra Paul created ripples, both in the fashion and social circles, by inviting her Kantha artisans to take a bow with her at Lakme Fashion Week. This won her a well-deserved standing ovation. Neelanjana Ghose, wife of the acclaimed director Goutam Ghose, wooed Sweden last May with her Kantha sarees, stoles and jackets. She learnt the craft from her mother and supports many underprivileged women who cannot do a regular 9-5 job.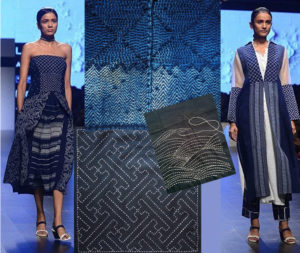 Pallavi Singh declared a bold mutation of Japanese Sashiko with the Indian Kantha in SS-2017, at LFW
With globalisation, came fusion. Kantha was not left untouched either. The catwalks saw clever borrowing of tessellated patterns from the Japanese counterpart, presented by Pallavi Singh in SS-2017, at LFW. Her collection entitled "Tokyo Delhi" declared a bold mutation of Japanese Sashiko with the Indian Kantha. While indigo, the most raved colour of the season, was central to the collection, comprising of kurtas, knee-length skirts with crop tops and dresses, white played the role of creating a smart contrast. The base fabrics used were Chanderi and Cotton. The local artisans developed the Japanese motifs for her collection. This is an ideal attempt to empower local artisans, yet present the craft with a global approach to the neo-craft loving consumers.